Great Falls Chapter SCI Contributes
$50,000 To the Falls Creek Project
The Rocky Mountain Elk Foundation, in coordination with Lewis and Clark County, the Dan Barrett family, Helena-Lewis and Clark National Forest, the Great Falls Chapter SCI, and many other partners, is thrilled to announce 442 acres of prime wildlife and riparian habitat along Montana's Rocky Mountain Front are now permanently protected and in the public's hands.
Called the Falls Creek project, it greatly improves access to more than 26,000 acres of public land containing prime elk habitat beyond it.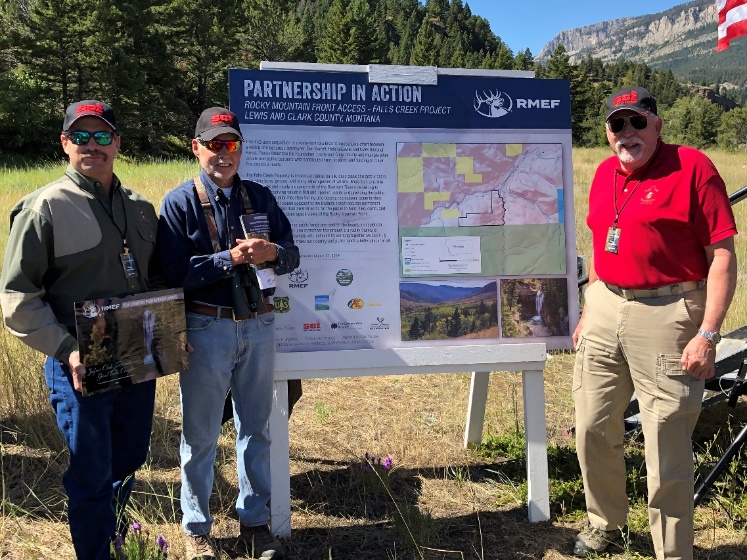 Chapter Board Members, Brad Lencioni, Terry Ehrhardt and Rick Vukasin attended the dedication on Tuesday, August 27, 2019. Over 100 people attended the dedication and official opening of the Falls Creek area to the public, including U.S. Senator Steve Daines.
"This is a major conservation accomplishment on so many fronts and we are ecstatic about it," said Kyle Weaver, RMEF president and CEO. "Our goal was to raise nearly $2.5 million dollars over a relatively short period of time and a lot of good folks stepped up to make it happen. And all this transpired in time for the 2019 general big game hunting season."
"This is an example of a great partnership that provides public access to 26,000 acres of National Forest system lands," said Bill Avey, Helena-Lewis and Clark National Forest supervisor. "We're very thankful to the Barrett family, Lewis and Clark County, Rocky Mountain Elk Foundation and all of the partners who worked so hard to make this happen."
The property is primarily forestland and grassy meadows. It is located about 30 miles southwest of Augusta. Its entire eastern boundary is bordered by more than one mile of Falls Creek, including the scenic Falls Creek waterfall at the back of the acreage, while the western and northern boundaries are bordered by private lands and the Dearborn River.
"This landscape provides quality habitat for many species of wildlife including elk, whitetail deer, grizzly and black bears, and mountain lions," said Blake Henning, RMEF chief conservation officer. "It's also important spring, summer and fall range for elk in a hunting district (HD 422) where the population is well over objective, in part, because gaining access has been so difficult for a long time."
The previously inaccessible Falls Creek trailhead and trail open to the public on August 28 and will provide access for hunting, fishing, hiking, camping, horseback riding and other non-motorized travel and recreational use.
"We are incredibly excited the county is able to contribute to the purchase of this property and we thank the voters of Lewis and Clark County who had the foresight to approve the Land, Water and Wildlife bond more than a decade ago," said Lewis and Clark County Commission Chair Jim McCormick. "Falls Creek is an extraordinary project, exactly the use this bond was intended for, and we know our residents will be out enjoying it this fall."
RMEF brokered the transaction and conveyed the 442 acres to the Helena-Lewis and Clark National Forest.
Organizations that provided project funding include the Safari Club International – Great Falls Chapter Lewis and Clark County Open Lands Program, RMEF, the Land and Water Conservation Fund, Montana Fish and Wildlife Conservation Trust, Bass Pro Shops, The Conservation Fund, , The Conservation Alliance and the Mule Deer Foundation. Many private individuals also contributed.
Check to Grace Home Veterans Center
Rick Vukasin, Great Falls Chapter SCI Board Member presented a check in the amount of $2,500 to Bill Chafin and veterans of the Grace Home Veterans Center on May 8, 2019. The check was a combination of money donated by attendees at the March Chapter Banquet and matching funds from the Chapter Board of Directors.
In addition, the chapter donated a quilted wall hanging with the name Grace Veterans Home Center sewn on.
Grace Home Veterans Center is committed to providing housing, employment and general assistance to U.S. Veterans in need. Service is provided without regards to religion, race or national origin. Grace Home is a program of St Vincent DePaul of North Central Montana.
The money will go to use in their new garage which is a woodworking and mentoring shop for veterans to engage and keep their hands as well as their minds busy.
Utilizing the new workspace, the Grace Home will work in cooperation with St. Vincent de Paul by refinishing and repurposing furniture and other items, which will then be given to the My Neighbor in Need Program.
Grace Home is at 2211 5th Avenue North; they are always grateful for donations such as tools, old furniture, and anything the vets can refurbish.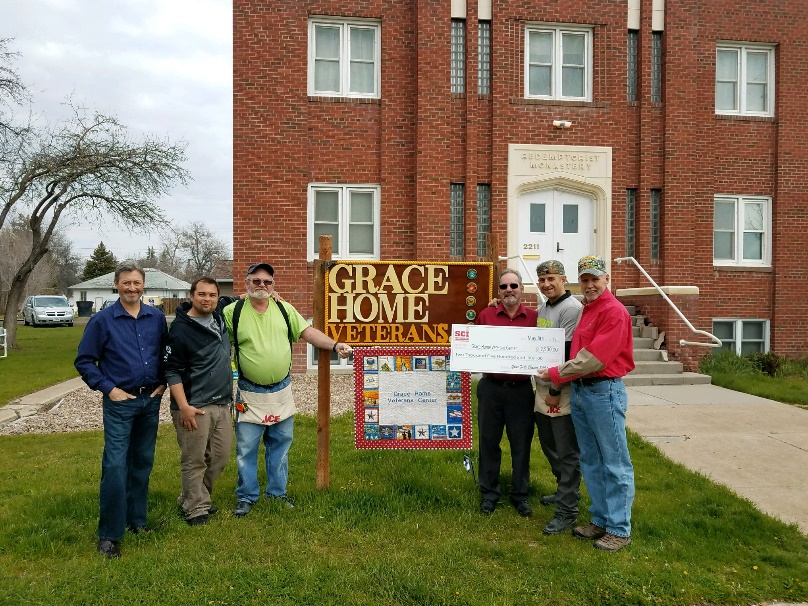 Chapter Sponsors Boy Scouts Black Eagle Park
Tree Planting and Clean up
Ruth Fischer, Great Falls Boy Scouts of America Pack #4143 sent the following thank you and pictures to us for sponsoring the Boys Scouts Black Eagle Park tree planting and clean up on June 29, 2019.
"I am sending you an update on how our Great Falls Chapter Safari Club sponsored project went. We had a fabulous turnout. There were 28 youth and adults that came to help out. We had a total of seven trees to plant.
We had three groups planting the trees and the work went very swiftly. There were 2 other groups that helped out with painting the benches of the picnic tables. Everyone worked so well together the painting and planting were done in a little over two hours. We then spent some time trimming the mature trees around the park and finished our morning with Pizza from Pizza Hut for lunch.
All Participants in this project have earned their Messenger Of Peace Patch that is worn on their uniform surrounding the World Crest. This project completed the 3 requirements to earn this patch which are as follows.
The personal dimension: harmony, justice, and equality
The community dimension: peace as opposed to hostility or violent conflict
Relationships between humankind and its environment: security, social and economic welfare, and relationship with the environment
I want to say Thank You to the Great Falls Chapter SCI, for being our sponsor. The Black Eagle Park is maintained by volunteer and funded by donations. We appreciate your help, and this project would not have been as successful as it was without the Safari Club's generosity.
Thank you, to all of the Scout Families that came and helped out with planting the trees, painting, and general maintenance of our beautiful community park. "
Great Falls Chapter SCI Sponsors Junior High Fishing Day
30 students from both East and North Junior High Schools traveled in a yellow school bus to Holter Lake for an all-day fishing trip. The two-day Exploratory Activity started at East Middle School on June 4th where students engaged in the making of a variety of lures with the assistance of three teachers, Ryan Kakalecik , Jenn Volkmar, Pat Volkmar and volunteer time from North Forty and Fred from the fly shop.  On Wednesday, June 5, the weather was perfect and the students headed to Holter Lake. Everyone had a great time and a total of 20 trout and one sucker were caught.
Pat and Jenn Volkmar started the Hooked on Fishing Not Drugs Club a couple of years ago to offer students exposure to fishing. Great Falls Chapter SCI has sponsored the program for the past 4 years. Jenn said "We are thankful for the financial assistance offered through the Great Falls Chapter SCI as well as the volunteer time that was donated by our experts."
Opportunities like this allow for middle school students who have not had much outdoor experience to try out lure making and fishing for the first time.