Check to Grace Home Veterans Center
Rick Vukasin, Great Falls Chapter SCI Board Member presented a check in the amount of $2,500 to Bill Chafin and veterans of the Grace Home Veterans Center on May 8, 2019. The check was a combination of money donated by attendees at the March Chapter Banquet and matching funds from the Chapter Board of Directors.
In addition, the chapter donated a quilted wall hanging with the name Grace Veterans Home Center sewn on.
Grace Home Veterans Center is committed to providing housing, employment and general assistance to U.S. Veterans in need. Service is provided without regards to religion, race or national origin. Grace Home is a program of St Vincent DePaul of North Central Montana.
The money will go to use in their new garage which is a woodworking and mentoring shop for veterans to engage and keep their hands as well as their minds busy.
Utilizing the new workspace, the Grace Home will work in cooperation with St. Vincent de Paul by refinishing and repurposing furniture and other items, which will then be given to the My Neighbor in Need Program.
Grace Home is at 2211 5th Avenue North; they are always grateful for donations such as tools, old furniture, and anything the vets can refurbish.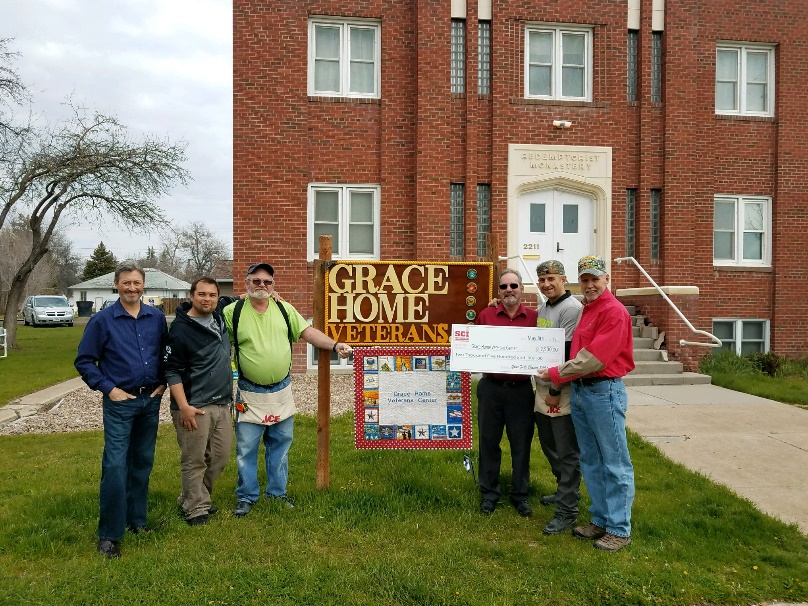 Chapter Sponsors Boy Scouts Black Eagle Park
Tree Planting and Clean up
Ruth Fischer, Great Falls Boy Scouts of America Pack #4143 sent the following thank you and pictures to us for sponsoring the Boys Scouts Black Eagle Park tree planting and clean up on June 29, 2019.
"I am sending you an update on how our Great Falls Chapter Safari Club sponsored project went. We had a fabulous turnout. There were 28 youth and adults that came to help out. We had a total of seven trees to plant.
We had three groups planting the trees and the work went very swiftly. There were 2 other groups that helped out with painting the benches of the picnic tables. Everyone worked so well together the painting and planting were done in a little over two hours. We then spent some time trimming the mature trees around the park and finished our morning with Pizza from Pizza Hut for lunch.
All Participants in this project have earned their Messenger Of Peace Patch that is worn on their uniform surrounding the World Crest. This project completed the 3 requirements to earn this patch which are as follows.
The personal dimension: harmony, justice, and equality
The community dimension: peace as opposed to hostility or violent conflict
Relationships between humankind and its environment: security, social and economic welfare, and relationship with the environment
I want to say Thank You to the Great Falls Chapter SCI, for being our sponsor. The Black Eagle Park is maintained by volunteer and funded by donations. We appreciate your help, and this project would not have been as successful as it was without the Safari Club's generosity.
Thank you, to all of the Scout Families that came and helped out with planting the trees, painting, and general maintenance of our beautiful community park. "
Great Falls Chapter SCI Sponsors Junior High Fishing Day
30 students from both East and North Junior High Schools traveled in a yellow school bus to Holter Lake for an all-day fishing trip. The two-day Exploratory Activity started at East Middle School on June 4th where students engaged in the making of a variety of lures with the assistance of three teachers, Ryan Kakalecik , Jenn Volkmar, Pat Volkmar and volunteer time from North Forty and Fred from the fly shop.  On Wednesday, June 5, the weather was perfect and the students headed to Holter Lake. Everyone had a great time and a total of 20 trout and one sucker were caught.
Pat and Jenn Volkmar started the Hooked on Fishing Not Drugs Club a couple of years ago to offer students exposure to fishing. Great Falls Chapter SCI has sponsored the program for the past 4 years. Jenn said "We are thankful for the financial assistance offered through the Great Falls Chapter SCI as well as the volunteer time that was donated by our experts."
Opportunities like this allow for middle school students who have not had much outdoor experience to try out lure making and fishing for the first time.